LENDING WI-FI PROGRAM CHIPS AWAY AT DIGITAL DIVIDE, BUT FOR HOW LONG?
The hotspot lending program means that, for a lucky few, going online no longer requires signing up to use a library computer a day in advance, lurking on the steps of public libraries after hours, or spending money at a coffee shop or fast food joint just to get a Wi-Fi password.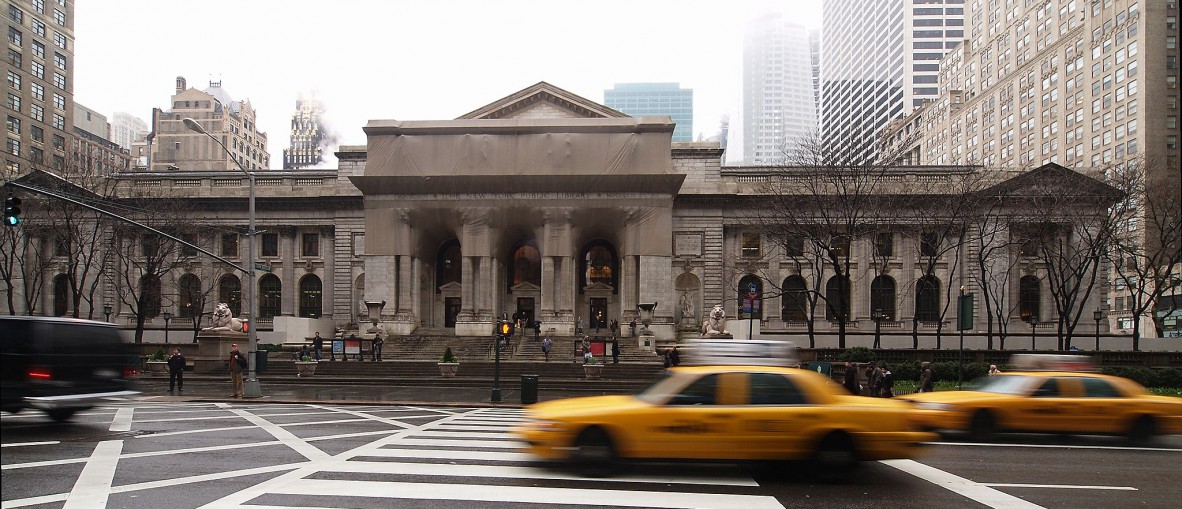 The New Yorkers trickling into the basement reference room of the Fort Washington branch library on the Thursday before Independence Day were among the 730,000 New York City households without broadband internet in the home—but not for much longer. After a brief orientation they each walked out with a pocket-size Wi-Fi hotspot, theirs for the next six months—a full year if they choose to renew. The New York Public Library (NYPL), which serves Manhattan, Staten Island, and the Bronx, first received a $500,000 grant from the Knight News Challenge last year to run a year-long, 10,000-unit hotspot lending program. Since then, the library has received $1 million from Google, with additional support from Open Society Foundations and the Robin Hood Foundation, and has partnered with the Brooklyn and Queens public libraries to expand the program across all five New York boroughs.
Since being made available to the general population, demand for the hotspots has been high: advance registration is required to attend orientations in the NYPL and the Brooklyn Public Library (BPL) systems and slots are said to fill up within a day or two of being announced. Program coordinators in all three systems as well as the New Yorkers lining up to borrow the devices have almost entirely positive things to say about the program, but how the libraries could afford to keep the project going beyond the one-year pilot period is a question nobody can answer yet. It also remains to be seen how the libraries will determine if this program is the best way to leverage limited resources towards closing the digital divide.
"The patron response has been really positive," Jesse Montero, the Director of Information Services at BPL, tells Civicist. "People are just really excited to get home wireless access. It's really empowering for people. As far as getting measurable outcomes, that's something we're all looking forward to through surveys."
Charity Kittler, the Library Hotspot Program Manager at NYPL, tells Civicist that the surveys include questions about patron demographics, device usage, and the lending program itself, but it remains unclear how the results of the survey will be used to determine success.
The hotspot, technically the Sprint Netgear Zing mobile hotspot, is small enough to fit in a pocket and can travel and connect anywhere in the continental U.S. Although data usage is "unlimited," the device allows for 6GB of data a month at LTE speeds before getting downgraded to a slower 3G speed. This throttling is put in place to curb "excessive usage"—basically gaming or streaming videos. Up to nine devices (phones, tablets, or computers) can be connected to the signal at once.
The devices are activated before being shipped to the libraries and so, although the program is described as year-long, the internet could actually stop two to three weeks before the full 12 months are up. Nearly half of the 10,000 devices are already in circulation; the remaining half will be lent out through this fall.
Each library system designed their own programming and lending rules for the hotspots, so when they do start thinking about ways to move forward, they will have three models to compare and contrast.
—New York Public Library (Manhattan, Staten Island, and the Bronx)
The NYPL initially began lending the hotspots out last year to participants in the library's educational programs, like their English or literacy classes, but this April it expanded the program to any individual without home internet service. (Although recipients must sign something that says as much, this is on the honor system.) Patrons can take out the device for six months with the option of one renewal, for a total lending period of a year.
At the July orientation in upper Manhattan, library staff bustled about the basement reference room trying to make sure they let in people on the waiting list in the proper order. Before starting the orientation, one of the women leading it explained to a concerned patron that no, that woman (meaning me) was not cutting the line—she's just a reporter sitting in.
The library staffer handed out user agreements, stapled hotspot information packets, and basic internet safety guides. She delivered the orientation in both English and Spanish, and did her best to answer questions about illegal downloading ("Honey, big brother watches everything. They'll know.") and data quotas.
Charity Kittler tells Civicist that most orientations have between 20 and 30 participants. The advantage of small orientations, she says, is that it allows for a little extra time for patrons to hang around and test out the device on their phone or tablet, and get assistance from library staff if necessary.
—Brooklyn Public Library
The BPL is lending the devices out for a full year, but without the option to renew. Like the NYPL program, anyone over the age of 17 is eligible to borrow, as long as they attest they have no home internet access.
There were only five people in the room when I arrived at a Crown Heights orientation in late June, just before the scheduled start time of 11 a.m. The two orientation leaders began the presentation by reading aloud from Powerpoint slides that explained the device and the borrowing rules. Three or four more people trickled in over the next half hour and some of the material had to be repeated.
A quick poll of the room while patrons went one by one to fill out the paperwork and receive their hotspot revealed that most of the attendees had heard about the hotspot program from friends or coworkers.
One woman, who had not registered for the class but had shown up at 8 a.m. hoping to get in off of an unofficial waiting list, said her friend told her it was "seventh heaven." Unfortunately, the orientation leaders told me that Brooklyn Public Library policy is to lend only to patrons who have pre-registered for the hotspots, and that the woman would be leaving—that day at least—empty handed.
—Queens Library
The Queens Library system modeled their hotspot lending program after their tablet lending program. After Hurricane Sandy, Google donated 5,000 tablets to the Queens Library. Patrons can check out the a tablet for a month, with the possibility of renewing three times. The same terms now apply to the Sprint hotspots.
"We decided that we would not make them initially part of a program but lend them out like we do any other material," Kelvin Watson, Vice President of Digital Services and Strategy at Queens Library, tells Civicist.
Until the library began the hotspot lending program, many patrons used the tablets—which come loaded with a custom library app—exclusively offline while at home. Although the app was designed to work online or offline, Watson says being able to get online makes for a richer experience.
"What we found was that we could now lend out a tablet and a mobile hotspot to the same patron. That allowed us to couple the devices or decouple the device," Watson adds. "Now we ha[ve] an opportunity to come full circle in closing the digital divide, providing both the device and the connection."
Watson has asked his team to pull information about data usage from each device, so that he can show the precise value of the hotspot to library patrons. "Data costs money, so this is how we can say—in dollars—what we've provided to the community," he says.
Queens Library has 2,500 hotspot units to lend. When we spoke in mid-summer, Watson said that total circulation had already passed 4,000 (that includes initial checkouts as well as renewals).
THE BORROWERS
The orientations in Brooklyn and Manhattan were attended by a diverse crowd. Fort Washington, which serves a large Spanish-speaking population, was prepared with print material in both English and Spanish, and the orientation leader was bilingual as well. At the Crown Heights branch, one man told me he came with his friend to help translate the English-language material for him (this man had already received a hotspot of his own and reported being very pleased with it, in spite of speed and data limitations).
Most of the people at the Crown Heights orientation I attended said the device would be used in their single-person households, but two of the women I spoke with at the Fort Washington branch said they had a recent high school graduate at home with whom they would share. Patrons said that they planned to use it to look for work, check email, and to keep in touch with family and friends. One of the orientation leaders said they keep one in their car and use it to listen to Pandora.
"The essential reason why I got it was to travel and that way if I hear about a job I can apply right away," one of the women with a teenage son told me. "In the past I had to find a Starbucks and now with this hotspot I'm a different person." She added that her brother-in-law, a Vietnam veteran, already has one and uses it to keep in touch with Veterans Affairs.
When and if the library systems decide to make the results of the surveys public, we might learn more about the make-up of hotspot users.
BPL set aside a number of devices for special populations, including the elderly and homeless. "We look for innovative ways to engage our patrons," Nick Higgins, the Director of Outreach Services, tells Civicist. "The people we work with…don't have traditional access to libraries."
As part of their immigrant services, BPL lends the devices to students in their three-month-long citizenship classes so that they can study outside of class.
They also set aside 10 hotspots for older adults. BPL already has an established "books by mail" program for older adults, who can call and request books to be delivered to them. Higgins says they have reached out to a handful of the 350 registered books-by-mail users to see if they want internet access. If a patron says yes then a library staff member will stop by, set up the hotspot, and show them how to use it. Higgins says all 10 have been deployed. If the patron doesn't have a device to get online (as is common, says Higgins) they will also loan a tablet.
Higgins also told Civicist about a new partnership with the NYC Department of Homeless Services to open outpost libraries in eight family centers in Brooklyn, and his plans to start lending hotspots out of those sites.
ONE YEAR AND COUNTING
Although the first few devices were lent out last December, the last devices have yet to even arrive in the city. This is a one-year pilot program stretched out over two years (or more—there was an even smaller 100-unit pilot in early 2014). Challenges, I'm told, are few.
There's just the small problem of figuring out where to get the next influx of financial support for the program. Kittler told Civicist that NYPL does not expect to get more funding from the same partners. The devices are paid for, but more money will be needed to keep the data flowing, to replace damaged or lost hotspots, and to expand the program.
Other states and cities are dealing with these same issues. Kittler collaborates with libraries in Kansas and Maine that have similar Wi-Fi lending programs (some of their lending periods are as short as two weeks). The Knight Foundation awarded $400,000 to the Chicago Public Library for a hotspot lending program at the same time as the NYPL grant. And a program in Seattle launched earlier this year to astronomically high demand—175 holds on 126 devices on the first day of circulation, according to James Risley, who reviewed the device for GeekWire. By the time Risley got his hands on one the waiting list was almost 1,300 people strong.
"I haven't really talked to another library system that has a long term sustainability solution," the Seattle Public Library's IT director, Jim Loter, told Risley. "We're certainly interested in continuing the program as long as there's high demand for it, and at this point we have a number of options that we're exploring in order to do that."
"What the best way to tackle the digital divide in New York? I feel like I have this conversation every week," Charity Kittler tells Civicist. "There are lots of different ideas being batted about internally."
In the meantime, the hotspot lending program means that, for a lucky few, going online no longer requires signing up to use a library computer a day in advance, lurking on the steps of public libraries after hours, or spending money at a coffee shop or fast food joint just to get a Wi-Fi password. It might not be the always-on, Google-Fiber-fast connection many Americans want or even expect, but, if the sustainability problem is sorted out, hotspot lending programs could be an important part of a connectivity web, bringing underserved populations online, more often.
Full disclosure: Civic Hall co-founder Andrew Rasiej helped conceive and secure funding for this pilot program.
Read next: An Xiao Mina and Julia Ticona on why we should stop thinking of the digital divide as an issue of the haves and the have nots.