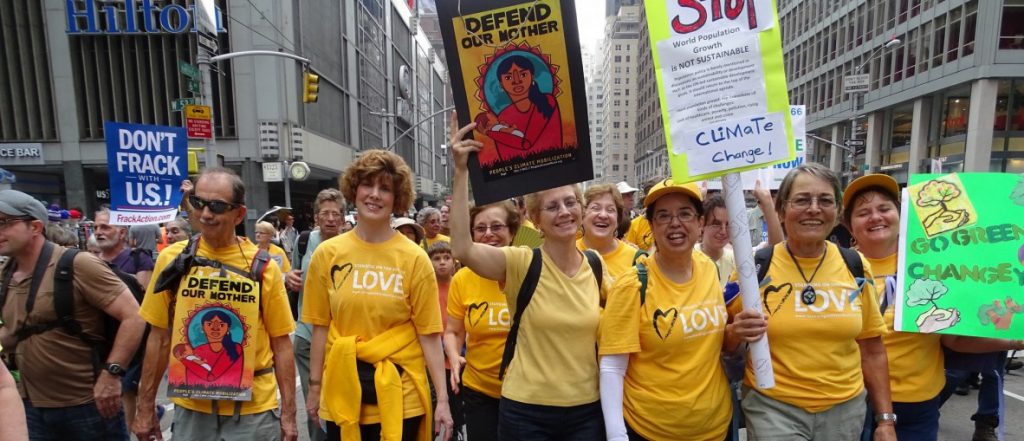 This morning a group of climate activists and canoe enthusiasts will float from Columbia, Missouri, to Jefferson City, Missouri, to
deliver petitions supporting carbon reductions to the Governor. This afternoon, protesters will demonstrate outside of a Volkswagen dealership in
Tucson, Arizona. And this evening, New York activists and intellectuals will ponder the
city's relationship to trash. These are just three events, of roughly 175, planned as part of the
National Day of Action for the people's climate. Just over a year after the People's Climate March—the largest climate-related demonstration in history,
even if the oft-touted estimate of 400,000 marchers is too generous
—the People's Climate Movement is finally finding its legs.
After the wildly successful demonstration last year, the fate of the coalition responsible for the People's Climate March was uncertain. As I wrote in May, support for the hubs platform, the
digital infrastructure that made the march
inclusive and easy to join, was discontinued after the march was over, in part because of a lack of resources as well as skepticism about the platform's
usefulness moving forward.
The hubs platform wasn't the only piece to be neglected in the months following the march. "There was lots of organizing and
infrastructure that we created for the march that wasn't maintained," Tammy Shapiro, the hubs coordinator, told Civicist earlier this year.
"Once you move a lot of people into action and build structures it's really important to keep those structures supported," says Paul Getsos, a national
coordinator both this year and last, as well as an author of the book Tools for Radical Democracy. "Nobody realized
how big and how important and how successful the march was going to be at getting people engaged." As organizers from 350.org told Civicist earlier this
year, the original intention was not to create a permanent "People's Climate" organization.
It wasn't until a retreat this February, attended by representatives of around 50 organizations, that they decided to turn the "March" into a "Movement"
and began planning the October day of action.
Although Getsos says partner organizations have been great at financially supporting a core staff, he characterized the operation this year as "barebones,"
a stark contrast to the march last year, which was so well-financed that it attracted criticism for being a corporate PR campaign.
If the march last year was about demonstrating unity and sheer numbers—to the detriment, some argued, of a "meaningful agenda"—the coordinated
action this year is about individual communities. "The fourteenth is a day to really lift up local organizing work," Getsos explains to Civicist.
BUILD-YOUR-OWN ACTION
To support the National Day of Action, the People's Climate Movement (PCM) created a downloadable toolkit, a resource for organizers that
includes a suggested to-do list ("Prioritize building an inclusive team"; "Reach out to local organizations that may be supportive, especially
underrepresented groups"); suggested targets (elected representatives; local corporations) and actions (office takeover; banner drop; flash mob); and how
to spread the word and boost attendance. They also provided tip sheets, press release templates, and talking points of various lengths in both English and
Spanish. In collaboration with Climate Prints, PCM released downloadable posters designed by artists like Marcus Blake, Chip Thomas, and Melanie Cervantes,
that people could use to spread the word about the National Day of Action.
Getsos says that the open source aspect of the organizing allows anyone to pick it up, although the capacity to support them isn't what it was last year:
In the march planning last year we had a very strong digital operation. We had a very strong social media operation. I think we had a very strong open
source hubs model situation. 

I think trying to transfer those skills and that work into 100 places around the country is a little bit challenging…we really don't have the resources
and the capacity now to do that in a way that we were able to do it when everything was focused in on one spot.
Through partner organizations like the Sierra Club and 350.org, campaign director Nick Espinosa says more than two million emails have been sent directing
people to the online map of national actions to join. PCM also emailed the 65,000 people who signed up
during the march last year, and the 40,000 who have liked their Facebook page. On behalf of PCM, Tammy Shapiro reached back out to the listserv of hub
coordinators.
I emailed the coordinators I was in touch with for my earlier story. Of the six, only Christopher Wahmhoff, a coordinator in Kalamazoo, got back in touch
with me to say that he was organizing an action today, targeting Congressman Fred Upton
(R-MI).
Although the hubs are all but defunct, at least officially (they've been essentially archived here), the quirkiness, individualism, passion, and creativity they were made to support is still evident in the National Day of Action (see: the canoe enthusiasts in Missouri). Months ago, the social media coordinator for the march last year tweeted that many hubs were still active on Facebook.
"We were surprised to see such a strong response to the call for action around the country, with over 175 events registered as of today," Nick Espinosa
wrote in an email to Civicist. "To me that is a strong sign that there is a lot of movement energy out there to be harnessed, especially on the road to
the climate negotiations in Paris."
"Our hope," he added, "is that the tools we've given people will help them continue organizing in their local communities, and that we can continue to
offer some support over time."
If the PCM suffered through neglect last year, it seems as though that mistake will not be repeated. Paul Getsos tells Civicist that they are already "thinking
strategically" about what to do after October 14.